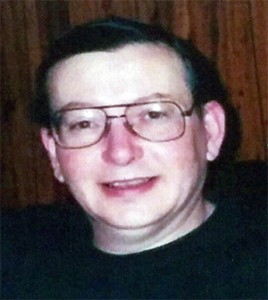 On March 2, 2015 at 2:10pm, William (Bill) Richard Goins, Jr. passed away peacefully due to complications from a hemorrhagic stroke. Bill was surrounded by his family at Holmes Regional Medical Center in Melbourne, Florida at the time of his passing. He was 59 years old. Bill was currently residing in Cocoa (Port Saint John), FL where he lived for the past 10 years.
Bill was born in Kingsport, Tennessee on July 4, 1955. He was the first born child of Mary Katherine and William Richard Goins, Sr. In 1960 the family moved from Kingsport to Fairborn, Ohio. In 1969 they moved to New Carlisle, Ohio where Bill graduated from Tecumseh High School in 1972. During high school, Bill and his friends started a band. They named themselves the "Looney Tunes" and Bill was the drummer. They kept the band together for a couple of years after high school.
After high school, Bill started going to Sinclair Community College in Dayton, Ohio. There he was studying law & law enforcement. His course of study helped him to gain employment with a company called Pinkerton. At the time, Pinkerton was an investigative organization. Bill was hired to be a private investigator. One of his assignments was at a local machine shop where large machines were being stolen from the loading docks. Bill infiltrated the establishment as a fork lift driver. He soon gathered enough information and evidence for the police to make the appropriate arrests.
In approximately 1977, Bill and his friend, decided to move to Arizona. There he worked as a guard at the State prison. Bill enjoyed living the desert life, trapping coyotes, chasing road runners and shooting up cactus & rattlesnakes.
Around 1983, Bill moved back to New Carlisle, Ohio and began working for Miami Valley Shooting Grounds in Vandalia, Ohio where he became General Manager. He ran the store, indoor and outdoor ranges, and arranged competitive shooting matches that attracted some of the best skilled shooters in the states. He even had his 15 minutes of fame from being on the radio advertising the business and their events. Eventually the business changed hands and became Relo Sporting Goods. Bill was so successful at what he did, the new owners requested he stay on as General Manager.
Bill was also an entrepreneur. He started his own business, Goins Gun Service. He was well known in the area for his reloaded ammo. He also bought and sold specialty or hard to find guns and archery equipment and performed pistol testing.
Bill won many trophies & awards in competitive shooting. He was one of the best and known through-out the country as such. He was so fast & so accurate with any caliber of gun or rifle. He could cock a 9mm by quickly sliding it down & up his thigh. He was truly impressive and one of a kind.
Bill was also an avid fisherman. He and his friends would travel as far north as Michigan, as far south as Lake Okeechobee in Florida and everywhere in between for fishing. He enjoyed his Ranger fishing boats & the peace and tranquility of being on the water.
In 2004 Bill went to Florida to help his little sister out during a very active hurricane season. He decided he liked the warm weather, beautiful beaches, and ample fishing much better than the cold, harsh winters in Ohio and never left. In 2007 he started working for Target in Titusville, Florida where he continued to work until God called him home.
Bill enjoyed comedies, documentaries and educational programs. He also enjoyed reading and staying up on current events, technology, space and science.
Bill was a great story teller. He told stories with such enthusiasm, even though you weren't there, he made you feel as though you were. His laughter was contagious. He was outspoken & outgoing, yet quiet and reserved. He would give the shirt off his back or the last dollar in his wallet to anyone he loved or considered a friend. He lived and experienced life on his own terms. Not requiring approval or affirmation from others. He was a great protector of his family.
In 2007 Bill made the most unselfish decision a person could ever make and signed up to be an organ donor. Bill left this world way too soon, but in doing so, he saved the lives of three people by donating his liver and both kidneys. He also gave another person the gift of sight by donating his corneas. In central Florida there were over 3,000 people referred to be potential organ donors in 2014, only 81 were able to give the gift of life. This just goes to show how special and unique he truly was.
Bill is survived by his parents, Mary Katherine and William Richard Goins, Sr. of Cocoa, FL & New Carlisle, Ohio, his sister, Marie Yvonne Todd and her husband, Matthew James Todd of Merritt Island, FL. His Aunts, Jenni Steffey of Kingsport, TN, Betty Dorton of Kingsport, TN, Teresa Proffitt of Clinton, TN, Reba Goins of Macon, GA, and Luella Goins of Granite Falls, NC. His Uncles, George Goins of Knoxville, TN, and Herbert Snodgrass, Jr. of Kingsport, TN, and many cousins and close friends.
Bill was preceded in death by his grandparents, Florence and Herbert Snodgrass, Sr., Ada and Kelly Goins, Aunts, Blanche Applegate Pierson, and Joan Bellamy. Uncles, Troy Snodgrass, Jack Snodgrass, Randolph Goins, Don Goins, and Johnny Ferguson. Several cousins and friends.
A visitation hour will be held on Wednesday, March 11, 2015 from 5-6pm at Island Cremations and Funeral located at 405 South Courtenay Parkway, Merritt Island, FL 32952. Immediately followed by services at 6pm.