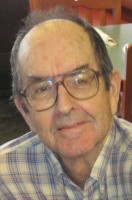 John Howell Higdon, 77, passed away peacefully Wednesday, October 22, 2014 at Vitas at Courtney Springs, Merritt Island, FL. John was born in Pensacola, FL to Bodie Floyd and Anna Ethel Higdon. He graduated with a bachelor's degree in electrical engineering from the University of Miami in 1959 and received his masters in computer science from the University of Central Florida in 1982. He worked for Boeing on the Apollo program until 1972 when health concerns forced an early retirement. As a native Floridian, John enjoyed boating in the Keys and deer hunting. Through the years John owned various sports cars. He enjoyed reading about cars as well as repairing them.
John is survived by his wife of 48 years, Betty D. Higdon; sister, Betty Lou Haimowicz (Arnold); nephews, William Cleveland Caldwell (Donna), Richard Higdon Caldwell (Margaret); niece, Kathryn Denise Carr (Kenneth); aunt, Maxine Higdon; and nine great-nephews and nieces. John will be missed by his family and friends.
A memorial service will be held in the chapel of Grace United Methodist Church, 65 Needle Blvd., Merritt Island, Saturday, October 25th at 11 a.m. Donations may be made to Florida United Methodist Children's Home, 51 Children's Way, Enterprise, FL 32725.