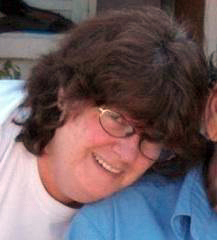 Susan Marie (Ruhl) Kendron, age 58, passed away peacefully on September 19, 2014 surrounded by family and friends after a brave battle with lung cancer.
Susan loved her family whether blood or otherwise. Susan was a very unselfish and giving person who never met a stranger. Her heart was as big as the state of Florida. Susan spread that love through her actions. After raising two sons Susan took on the task of raising her grandchildren, which filled her heart with joy. Her passions in life were her family, her love of animals, Susan was seldom seen without a book in her hand, and she loved playing card game of all kinds and her love of cooking.
Susan was an animal lover who adopted and cared for MANY critters through the years. I believe that many of them adopted her.
Susan is preceded in death by grandparents William & Margaret Beard, Robert & Margaret Brown, her parents Leonard & Mary (Beard) Ruhl, Uncle Joe Beard, granddaughter Destiny Riedell Bailey and many of her beloved pets. She is survived by her husband Chuck Kendron, her sons Steven Sather and Terry Sather, brothers Bill Ruhl, Bob Ruhl, John Ruhl and Joe Ruhl, sister Jean (Ruhl) Bailey, aunt Judy Beard, grandsons Joshua Sather, Eli Riedell and Joey Riedell, daughter Chris Zubiate, daughter Aubrey Vasquez, many aunts, uncles, cousins, nieces and nephews, Maggie, Oreo and Lila.
Her family would like to thank everyone at Cape Canaveral Hospital and especially the entire staff at Vitas Courtenay Springs facility in Merritt Island Florida for the care and compassion they gave to Susan.
In lieu of flowers, the family suggests donations be made to the Brevard County Humane Society in Florida or your local Humane Society or animal shelter in her honor.
Susan requested there be no funeral or memorial service for her which will be honored. Therefore, a celebration of Susan's life will be held at Rotary Park in Merritt Island Florida on October 11th at 4:00 pm. The website will be updated with more details if that changes or if more information becomes available.