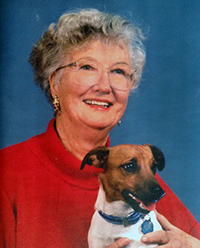 Daphne Fay Landry  88, passed away peacefully in her sleep early Friday morning, January 31st, 2014 at La Casa Retirement Home in Merritt Island, Florida.  Her husband, John, preceded her in death June 18th, 1978, and her youngest daughter, Joanne,   March 15th, 2009. She is survived by her children, Mark (and Mary) Landry of Overland Park, KS, Mary Landry Lindsey (and Dave) and Susan Landry Brannock of Morehead City, NC, William Ward Landry (and Nancy) of Cape Canaveral, FL. She had seven grandchildren, and six great grandchildren.
She was born in Geneva, Switzerland, where her father, Harold Van Vechten Fay and mother, Kathryn Beadle Fay were living and working for the World Peace Conferences of Boston  following World War I.  She lived there until about five years of age and they returned to Chevy Chase, MD where her father continued working for the federal government. She attended Holton Arms High School, and Wheaton College in Massachusetts where her degree was in Psychology and English. She married and settled eventually in 1954 in Potomac, MD where she could ride Pharaoh, her horse, and raise five children, dogs and cats. During her youth she worked a summer job at a hotel in Cape May, New Jersey, and acquired a life long passion for the beach.  In the summer of 1956, she purchased a cottage just outside the then limits of Ocean City, Maryland. Summers were spent there from then on, even to where the grandchildren would come back and visit. Four of her last five years were spent in independent living by her son, Mark, in Kansas. There the owner let her happily keep her sixth child, Chippy the III, her companion Jack Russell.  When more managing care was needed Will brought her to Cape Canaveral next door to his condo unit where she could daily observe the ocean waves breaking.
There will be a memorial service and inurnment in May at the Potomac Methodist Church in Maryland, the date yet to be set.