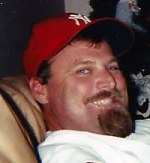 Charlie Loggins, 52, passed away December 23, 2012.
Survived by loving wife, Lisa; sons, Nick and Tanner; brother, Greg (Carla) Loggins; sister, Sherry; mother-in-law, Marlene Doepner.
Owner Loggins Lawn Care, 1993 County Championship Little League Coach, Charlie leaves behind a large loving family and many life long friends.
Services will be Saturday, December 29, 2012, at 12:00, Riverview Church of God, 737 S. Banana River Drive.
In lieu of flowers, contributions to the family can be made through Greg Loggins.