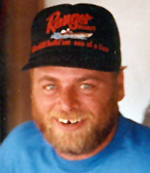 Billy Stumpf, age 52, passed away at home in Titusville, Florida, on Tuesday, March 4, 2014, with his family surrounding him.
Billy was born April 27, 1961, in Bristol, Pennsylvania. He was one of the nine children of John and Frances Stumpf. He attended the Sacred Heart of Jesus Elementary School and Lancaster Catholic High School, both located in Lancaster, Pennsylvania. As a young man, he was a paperboy, Boy Scout, and developed a life-long love of reading, fishing and the outdoors. Upon graduation, he was an integral part of two family-owned businesses, Stumpf's Frozen Foods and JAS Sports Memorabilia. He spent many years devoting most of his time working in the retail and wholesale distribution aspect of the businesses and helped bring both businesses to the success they achieved.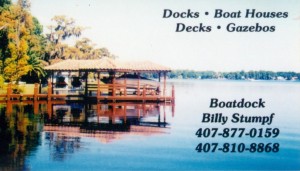 In the late 1980's, he moved to Florida, settling in the Orlando area. Little did he know that by 1990, he would have begun a dock-building business, "Boatdock Billy Stumpf," becoming one of the most reputable marine contractors in Central Florida. Already an insider with established credentials, solid skill-set, and an incredibly creative mind, Bill's knowledge and experience advanced his company into high profile municipal scopes of marine work, to include projects such as the City of Altamonte Spring's Crane's Roost Park, Bahama Bay Resort Dock & Cabanas and the Town of Harmony's Deer Park, among many others. All of which are still celebrating gatherings to this day.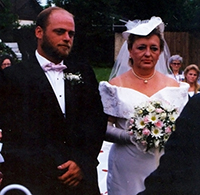 In 1992, Billy married an Orange County elementary school teacher, Ginny, and with that, he inherited an additional family which includes step-sons Scott, Christopher (Jen), step-daughter Tracy (Wade), as well as "his" first grandchild, Brittany (then 5 years of age). As the years went by, there were additional grandchildren, April, Eddie, Brody, Sarah, Lisa, Tori, and great-grandchildren Noah,and most-recently, newborn Sophia. One more great-grand child is yet to be born in the fall, (Eddie and Randi), and, if a boy, will carry the middle name of "William." He loved all of his "kids" because he was a big kid himself. Perhaps it was because breakfast on Sunday mornings on "overnights" at Grandma and Grandpa's house was usually hot fudge sundaes, whipped cream, cherries and all the fixings (as long as Grandma was still sleeping!)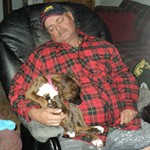 Three Christmases ago, Billy brought a six-week old Brindle Boxer home with him. He named her "Jazz," short for "Jasmine." She loved her Daddy, and comforted him as best she could. She misses him terribly.
 Billy was preceded in death by his parents John and Frances, brothers Jack, Tom (Ruth) and Rick. Billy left behind his large, wonderful family in Lancaster, brothers Robert (Susie), Edward (Shirl), and sisters Jeanne (Kevin), Mary in Philadelphia, and Joan (Anthony) in New York, as well as Godchildren George William, Andrew, and Caroline Schouten and many nieces and nephews. Billy met and kept many friends in both Pennsylvania and Florida, including "brother" Mitch Aument, and he will be missed by all of them. Special love to Ernie Heuthe for being Billy's "friend to the end."