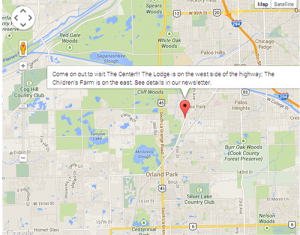 On Sunday, June 1st please gather outside at 1:30 rain or shine for a two o'clock celebration of John's life:
The Children's Farm at The Center
12700 Southwest Highway Palos Park, Illinois 60464
When you arrive at the Children's Farm (which is on the East side of Southwest Highway) you can walk to the gathering under the "pine trees" or a ride will be provided in wagon/hayrack.
If you would like to speak publicly about John you will be given the opportunity, and I would love that.
John LOVED to wear flip-flops. So in honor of John, please wear your flip flops on Sunday if the weather permits. Afterwards we will gather to enjoy some of John's favorite foods, drinks and continue to celebrate. I can't wait to see all of you and hear your stories about John.
 Please send me an email if you might attend. We would love to see you there.

John David Cheever, age 50, passed away at his home after a brave three year battle with primary brain cancer.
John was a Director at SRAM Corporation for 25 years. He held many titles there and had an incredible, unique career with his SRAM Family.  He is either directly responsible for or has contributed significantly to a long list of SRAM patents.
John loved to fish, boat, ride vintage motorcycles, work in his machine shop, play guitar, and watch the sunsets disappear.
John is preceded in death by Dorothy (Blume) Cheever, Fred Cheever, Roman Sendera, Mary Jinkinson, and his beloved dog Winston. He is survived by his wife Janice (Sendera) Cheever, parents Thomas and Carol Cheever, and his siblings Thomas, Caryn, and Carey (Udziela) Cheever.
I would like to extend my sincere appreciation to Dr. Jeffery J. Raizer, Dr. James P. Chandler, Dr. MaryAnne H. Marymont, and all the faculty and staff at the Northwestern Brain Tumor Institute for the care they had given John.
I will also be forever grateful to the Cancer Support Center for the help they have given John and I throughout this journey.
A celebration of John's life will be held in Illinois sometime in the Spring. I will provide more details, including the date and location through this webpage. When this information becomes available, an e-mail will be sent out.