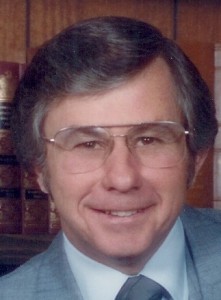 Billy Eugene Morris was born on December 1, 1936 in La Junta, Colorado to Robert and Catherine Morris and he passed away February 20, 2014.  He is survived by his wife Barbara A. Morris of Merritt Island, FL and two daughters, Pam (John) Bruckner of Woolsey, SD and Karen Wyman (Duane Alvarado) of Merritt Island, FL and five granddaughters, Angela (Michael) Pickett of Vermillion, SD, Sarah (Nathan) Miller of Aberdeen, SD, Alissa (Jason) Orban of Rapid City, SD, Jessica Pentacoff of Merritt Island, FL and Heather Pentacoff of Rancho Cordova, CA and six great-grandchildren Noah, AJ, Keegan, Payton, Lovelynn, Katie and his two sisters Norma Lee Conover of Rocky Ford, Colorado and Barbara Blackwell of Littleton, Colorado.
Bill graduated High School in Trinidad, Colorado.  He obtained an Associate's Degree from Pueblo, Colorado.  He was drafted in the US Army and stationed at Huntsville, Alabama at the Hawk Missile site.  He was in Sales for many years and after he married Barbara in September of 1977 they moved to Greeley, Colorado where he decided to go back to his knowledge of beekeeping, which his father taught him at an early age, and purchased Rice's Honey Farm and together they had a blooming business for 20+ years.  When they retired in 1999 they moved to Tucson, Arizona for five years.  After Arizona, they started to travel and decided to land in Rapid City, SD where he chose to go back to work in sales for Jack's Campers.
During their travels, he always loved to be near a beach and that is when they decided to relocate to Florida where they enjoyed walking along the beach together.  Bill had 3 B's in his life that he loved: Barbara, Broncos, and his Bees.  Bill always enjoyed gardening, cooking and getting together with family and friends.  Bill will truly be missed by his loved ones.
"Don't grieve for me, for I am free.  God wanted me, now He set me free."