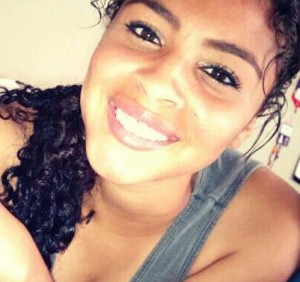 Rachel Marie Price, 18, died February 28, 2013.  Although, she was killed and ripped from our lives by a drunk driver, we know God decides when to take his children back.  We take comfort she walks as an Angel in Heaven, because she was an Angel here on Earth.
Rachel Marie Price was born July 11, 1994, in Melbourne Florida, to Donnie Lee Price Jr. and Eva Marie Claudio-Price.
Rachel Marie is survived by her Father Donnie Price Jr., her Mother Eva Marie Claudio-Price, her brothers Brandon Price and Ryan Price, her Grandfather Richard Claudio, Grandfather Donnie Price Sr. and Grandmother Jean Price, a number of Great Aunts and Great Uncles, and Aunts and Uncles, names are Richard and Cecelia Claudio, Raymond and April Claudio, Pamela (Claudio) and Scott Levenduski, Matthew Claudio, Vincent Price, Crystal Price, and her cousins Lyndsey, Ricky, Vincent Jr., Marissa, Robert, Xenia, Rayna, Bryce, Erik, Raymond, John, and Landis. Rachel now joins her grandmother Elvira Claudio in Heaven.
She began her soccer career when she was 4 years old in Melbourne Beach Soccer Club. Her teams were Tsunami, Space Coast United, Brevard FC, Lady Renegades, H.C. United, and the Tampa Bay Hellenic.  At Melbourne High School, she helped her Lady Bulldogs win 3 consecutive State Championships. She was a member of the United States U-15, U-17 and U-18 Women's National Teams.
Rachel was High School All-American in her Junior year.  In her senior year, she transferred to Palm Bay High School. She graduated from Palm Bay High School. Rae had the opportunity to play soccer at Eckerd College where she made an immediate impact athletically as well as academically. She was named 2012 Sunshine State Conference Commissioners Fall Honor Roll, 2010 State Player of The Year and a High School All American.She continued her passion and trained hard following ACL reconstruction to achieve her goals of one day playing in the World Cup, becoming a member of the United States U-20 Women's National Team, and represent her country in the Olympics.
Rachel had a drive in her like no other. She set specific goals and was able to accomplish every one of them until February 28.  When she was younger around 8 years old, she was given a notebook by one of her trainers. She was asked to write down her dreams.  She told him I don't need to write them down because I am going to make them all happen.  She wanted to be the youngest player to make the Olympic Soccer Team knowing she had to at least match Mia at 16.
She was born to play soccer and make a difference in the lives of others.  Rachel could accomplish anything she set her mind to.  She loved spending time on the pitch, being with her family and her friends.  This should not have happened.  We should not outlive our children.  God gives us our children as blessings and we are so blessed he gave her to us. We just wish we could have had her longer. We are so proud to know how many lives Rachel Marie has touched and the enormity of her spirit is overwhelming.  Some people never accomplish in a lifetime what she accomplished in such a short period of time. We love and miss you with all of our hearts, Rachel Marie.
GONE BUT NOT FORGOTTEN!!!!!!
Services will be held at
Calvary Chapel of Melbourne
2955 Minton Road
West Melbourne
Saturday March 9, 2013 11:00 a.m.