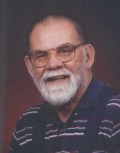 Kenneth Junior Hall, 78, passed away on November 30, 2012 at his home surrounded by his family. He was born in Traverse City, Michigan on July 14, 1934 and moved to Florida in 1946.
Kenneth was a super athlete and graduate of Cocoa High School. After receiving his BS degree in Business from the University of Florida in 1957, he served five years in the Army and Army Reserve.  Kenneth worked at the Eastern Missile Test Range for RCA/GE until his retirement.
He is survived by his wife of 53 years, Christel Hall, daughters Carol Bissell and Allie Bourne (Jeff), son Robert Hall, four grandchildren and two great-grandsons.Kenneth was a longtime member of Georgianna United Methodist Church and an avid Gator and Magic fan.
Services were held at 11am, Saturday, December 8th, 2012 at Georgianna United Methodist Church on Merritt Island.
A special thanks to all the caregivers involved in his care.