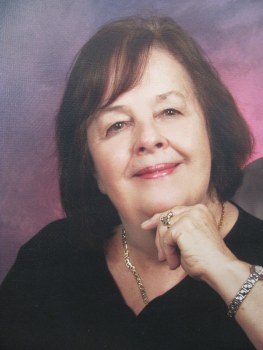 Charlotte Hendrix Griffin, cherished wife and Oma, passed away on Dec 27th, 2012. She was born September 3rd, 1930 in Miami to Earl and Bessie Hendrix. She graduated Orlando High School in 1948. She married Francis Dillman Griffin in 1949. Soon thereafter the newlyweds moved to Atlanta to attend Georgia Tech.
In 1958 Francis got a job in Huntsville, Alabama with NASA. They were members of Southside Baptist Church in Decatur, Alabama. Charlotte sang in the Church choir and was also president of the Women's Club. As the Space program accelerated they were transferred to Merritt Island, FL in 1965. There they became active members of the First Baptist Church of Merritt Island. She was a Soprano in the choir and a frequent soloist. She also taught special needs children and worked in drama ministries.
Among many life accomplishments, Charlotte was a successful local artist. She taught painting at her studio and gallery, Cousins II, in Cocoa Village and was a frequent judge at annual art shows. She was a co-founder of the Musical Theater of Brevard and a past member of the Brevard Opera Arts Association, singing and acting in many local productions.
Charlotte is also survived by her sons Michael, Steven and Charles, Her brother Harold Hendrix (Rosemary), her cousin Arleene Westman (Robert), grandchildren, Marisa, Allyson and Kelly, great-granddaughter Dannikah and many other loving family members. Charlotte had many close friends, students and colleagues. Thank you to all who were a part of her remarkable life.